FREE delivery for mainland GB orders over £50 (excludes highlands and islands) Other areas please see postage page.
Information
Pricing
All prices quoted are in UK Pounds Sterling.
Payment
All stock can be purchased using our Paypal Shopping Cart. You do not need a Paypal account, simply choose the 'Checkout - Pay without a Paypal account' option (see below photo). If you prefer to pay over the phone please give us a call. Local collection or delivery can also be arranged. On receipt and clearance of full payment for the order your items will be dispatched within 3 working days.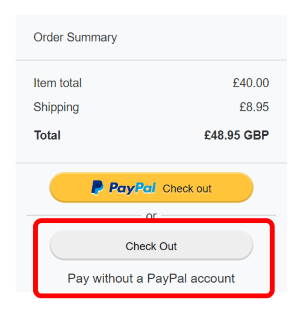 Customer Service Contact Details
If you require any assistance or further information please don't hesitate to send us an email at enquiries@tablewareforlife.co.uk or call/text us on 07867 746684
Postal Address: Tableware For Life, 17 California Road, St Ives, Cambs, PE27 6SJ
Condition
All discontinued Denby is second hand unless condition is stated as new. We do not sell items that are chipped, cracked or in very bad condition. As items not stated as new are second hand a small amount of wear is expected. Excellent condition is our best condition after new and will have minimal signs of use, items have probably been rarely used. Very Good condition is likely to have some small amount of cutlery scratching and/or wear probably from being used only for best and Good condition will have cutlery scratching and/or wear probably from everyday use. Please contact us to explain wear on individual items if in doubt.
Second Quality
All new Denby items we sell are first quality unless stated. For items described as 'Second Quality' this is how Denby defines a second quality item: "You can identify a Denby 'Second' by its finish." "During firing, slight variations can occur when the glaze colour becomes lighter or darker than the standard, or there are imperfections such as spots or uneven colour." "In every other way, Denby seconds are as strong and durable as best quality and suitable for use in the usual way in the dishwasher, freezer, microwave and oven."
If you would like to know more about a specific item you wish to order, please contact us.
Colour Variation
Why is there colour variation in some Denby Patterns? Denby is very much a handcrafted product, where glazes are often applied by hand. A difference of 1/1000th of an inch in glaze thickness can cause a slight variation in colour when the piece is fired. Slight variations in colour are part of the beauty of handcrafted products and means that no two pieces are identical.
Returns
If you are not happy with your item(s) for any reason we are happy to accept returns of the item(s) in the same condition sent to you within 14 days for a full refund, excluding return postage costs. Please note we will only refund UK postage and not any additional international postage paid. Our return address is Tableware For Life, 17 California Road, St Ives, Cambs, PE27 6SJ. Please let us know prior to returning the item.
Orders
All orders are subject to availability.
We also buy Denby
Because we deal in both old and new Denby we can offer the unique service of part exchange of your old Denby set against a new one. Just looking to sell? We may still be able to help.
Email us at enquiries@tablewareforlife.co.uk with what items you have, whether your items have ever been used on a daily basis or for best use only and if they are first or second quality. It's helpful if you let us know if you are local to us in St Ives, Cambridgeshire or if your set would need packing for a courier collection (we can send boxes and packaging). Please note we cannot buy anything with chips, cracks, repairs or very heavy wear.
Privacy Policy
We will only use your contact information for purposes of processing your order. You may receive notifications for delivery purposes only from our delivery partners, this information is not used by them for marketing purposes. We do not share your data with any other company for any marketing purposes and will not do so. We will only save your contact information to inform you of items you are looking for if requested. All website orders are processed using Paypal, we do not have access to your card details from website payments.