Coronavirus Update: Our shop may be temporarily closed but you can still shop with us online. We will endeavour to get parcels dispatched as soon as possible but please bear in mind it may take a little longer than usual for us.
Free postage on UK orders over £50
Denby Greenwich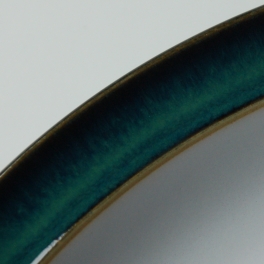 With a personality as strong and bold as its rich sea green colour, Denby Greenwich will always be the centre of attention. The shape of Greenwich items were updated from Meridian to Sherwood in approx 2008 to fall in line with Regency Green, Imperial Blue etc. Greenwich Accent was produced 1997 until 2000.
Current Range - Launched 1994
All current range items are new, 1st quality
Description
Our Price (each)
In Stock
Buy
Denby Greenwich Small Plate

17.5cm/7"

£12.00

6
Denby Greenwich Medium Plate

22cm/8.75"

£14.00

1
Denby Greenwich Dinner Plate

26.5cm/10.5"

£16.00

4
Denby Greenwich Medium Coupe Plate

21cm

£14.00

19
Denby Greenwich Coupe Dinner Plate

26cm

£16.00

16
Denby Greenwich Cereal Bowl

16cm/6.5"

£15.00

7
Denby Greenwich Shallow Rimmed Bowl

21cm/8.25"

£16.50

6
Denby Greenwich Pasta Bowl

22cm

£16.50

12
Denby Greenwich Rice Bowl

13cm

£12.00

10
Denby Greenwich Deep Noodle Bowl

14cm/5.5"

£15.00

14
Denby Greenwich Small Bowl

11cm

£10.00

0

Please allow approx 14-21 days for delivery

Denby Greenwich Ramen/Large Noodle Bowl

17cm

£18.00

9
Denby Greenwich Small Shallow Bowl

13cm

£9.00

1
Denby Greenwich Coffee Beaker/Mug

0.33 ltr

£13.00

7
Denby Greenwich Craftmans Mug

0.33 ltr

£14.00

6
Denby Greenwich Cascade Mug

0.4 ltr

£12.00

6
Denby Greenwich Tea/Coffee Cup

0.2 ltr/7 fl oz, Cup Only

£12.00

17
Denby Greenwich Tea/Coffee Saucer

Saucer Only

£10.00

15
Denby Greenwich Small Jug

0.35 ltr/12.5 fl oz

£30.00

3
Denby Greenwich Teapot

1 ltr/1.75 pint

£65.00

1
Denby Greenwich Teapot LID ONLY

Exact colour match not guaranteed as Denby varies slightly in colour

£16.00

4
Denby Greenwich Covered Sugar Bowl

200g/7oz

£25.00

1
Denby Greenwich Serving Bowl

1.4 ltr/2.5 pint

£47.50

1
Denby Greenwich Small Oval Tray

19.5cm

£20.00

0

Please allow approx 14-21 days for delivery

Denby Greenwich Medium Oval Tray

27cm

£25.00

1
Denby Accessories Colours Green Coasters - Set of 6

10 x 10cm

£11.00

1
Denby Accessories Colours Green Placemats - Set of 6

30.5 x 23cm

£12.00

(50% OFF)

RRP £24.00

8
Denby Green White Wine (pack of 2)

0.2 ltr, designed to go with Greenwich & Regency Green

£15.00

(50% OFF)

RRP £30.00

3
Denby Green Red Wine (pack of 2)

0.3 ltr, designed to go with Greenwich & Regency Green

£30.00

0

Please allow approx 14-21 days for delivery

Denby Green Large Tumblers (pack of 2)

0.4 ltr, designed to go with Greenwich & Regency Green

£24.00

0

Please allow approx 14-21 days for delivery

Denby Green Small Tumblers (pack of 2)

0.25 ltr, designed to go with Greenwich & Regency Green

£11.00

(50% OFF)

RRP £22.00

2
Discontinued Items
Description
In Stock
Condition
Price (each)
Buy
Denby Greenwich Discontinued Espresso Cup & Saucer

approx 6.5cm across top of cup

4
Excellent
£10.00
Denby Greenwich Discontinued Sauce Boat
3
New
£31.50
Denby Greenwich Discontinued Small Rectangular Dish

22cm x 13.5cm, green inside

1
Excellent
£20.00
Denby Greenwich Discontinued Straight Mug
1
Very Good
£12.00
Denby Greenwich Discontinued Tea Saucer

Fits old shape cup only

1
Excellent - 2nd Quality
£6.00