FREE delivery for mainland GB orders over £50 (excludes highlands and islands) Other areas please see postage page.
Denby Truffle & Layers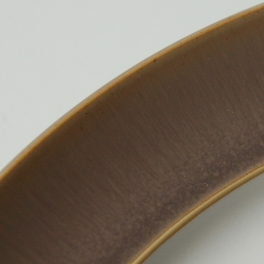 Produced 2007 until June 2018
Discontinued Items
Email us at enquiries@tablewareforlife.co.uk to go on our list for discontinued items currently out of stock. There is no obligation or additional charge for this service.
Description
In Stock
Condition
Price (each)
Buy
Denby Truffle Teaplate

18.5cm/7.25"

7 in stock
New
£13.00
Denby Truffle Wide Rimmed Teaplate

20.5cm/8"

1 in stock
Excellent
£12.00
Denby Truffle Wide Rimmed Teaplate

20.5cm/8"

10 in stock
Heavy use & dull from Dishwasher
£6.00
Denby Truffle Layers Wide Rimmed Teaplate

20.5cm/8"

5 in stock
Excellent
£13.00
Denby Truffle Layers Wide Rimmed Teaplate

20.5cm/8"

7 in stock
Very Good
£12.00
Denby Truffle Salad/Dessert Plate

23cm/9"

0 in stock
Denby Truffle Wide Rimmed Salad/Dessert Plate

24.5cm/9.5"

4 in stock
Excellent
£14.00
Denby Truffle Wide Rimmed Salad/Dessert Plate

24.5cm/9.5"

8 in stock
Good (dull from dishwasher)
£8.00
Denby Truffle Layers Wide Rimmed Salad/Dessert Plate

24.5cm/9.5"

8 in stock
Very Good
£14.00
Denby Truffle Layers Wide Rimmed Salad/Dessert Plate

24.5cm/9.5"

4 in stock
Very Good - 2nd Quality
£13.00
Denby Truffle Dinner Plate

28cm/11"

4 in stock
New
£16.00
Denby Truffle Dinner Plate

28cm/11"

1 in stock
Very Good - 2nd Quality
£12.00
Denby Truffle Wide Rimmed Dinner Plate

28cm/11"

3 in stock
Excellent
£16.00
Denby Truffle Wide Rimmed Dinner Plate

28cm/11"

1 in stock
Good (dull from dishwasher)
£9.00
Denby Truffle Wide Rimmed Dinner Plate

28cm/11"

4 in stock
New
£18.00
Denby Truffle Layers Wide Rimmed Dinner Plate

28cm/11"

7 in stock
Very Good
£15.00
Denby Truffle Gourmet Plate

31cm/12"

1 in stock
Excellent
£18.00
Denby Truffle Gourmet Plate

31cm/12"

3 in stock
Very Good
£16.00
Denby Truffle Soup/Cereal Bowl

15.5cm/6"

0 in stock
Denby Truffle Wide Rimmed Soup/Cereal Bowl

23cm/9"

2 in stock
Excellent
£15.00
Denby Truffle Wide Rimmed Soup/Cereal Bowl

23cm/9"

2 in stock
Good
£10.00
Denby Truffle Wide Rimmed Soup/Cereal Bowl

23cm/9"

3 in stock
New
£16.00
Denby Truffle Layers Wide Rimmed Soup/Cereal Bowl

23cm/9"

2 in stock
Excellent - 2nd Quality
£14.00
Denby Truffle Layers Wide Rimmed Soup/Cereal Bowl

23cm/9"

5 in stock
Very Good - 2nd Quality
£12.00
Denby Truffle Pasta Bowl

24cm/9.5"

2 in stock
Good
£12.00
Denby Truffle Rice Bowl

13cm, white inside

0 in stock
Denby Truffle Alt Rice Bowl

13cm, truffle inside

2 in stock
Excellent
£16.00
Denby Truffle Alt Rice Bowl

13cm, truffle inside

2 in stock
New
£17.00
Denby Truffle Layers Rice Bowl

13cm

0 in stock
Denby Truffle Noodle Bowl

14cm/5.5"

1 in stock
New
£12.75
Denby Truffle Layers Noodle Bowl

14cm/5.5"

0 in stock
Denby Truffle Dipping Bowl

125ml/4.5 fl oz

0 in stock
Denby Truffle Gourmet Bowl

28cm/11"

0 in stock
Denby Truffle Double Dip Mug

0.35 ltr

0 in stock
Denby Truffle Layers Straight Mug

0.3 ltr/10.5 fl oz

0 in stock
Denby Truffle Mug

0.35 ltr/13 fl oz

4 in stock
Excellent
£14.00
Denby Truffle Layers Mug

0.35 ltr/13 fl oz

1 in stock
Excellent
£16.00
Denby Truffle Layers Mug

0.35 ltr/13 fl oz

3 in stock
Good (dull from dishwasher)
£9.00
Denby Truffle Tea Cup

0.25 ltr/9 fl oz, Cup only

0 in stock
Denby Truffle Layers Tea Cup

0.25 ltr/9 fl oz, Cup only

0 in stock
Denby Truffle Tea Saucer

Saucer only

2 in stock
Excellent
£7.00
Denby Truffle Tea Saucer

Saucer only

2 in stock
Very Good
£5.00
Denby Truffle Buffet Saucer

24.5cm, Saucer only

0 in stock
Denby Truffle Wide Rimmed Tea Saucer

Saucer only

2 in stock
Excellent - 2nd Quality
£8.00
Denby Truffle Layers Wide Rimmed Tea Saucer

Saucer only

3 in stock
New
£11.00
Denby Truffle Espresso Cup

60ml, Cup only

6 in stock
New
£9.50
Denby Truffle Layers Espresso Saucer

Saucer only

0 in stock
Denby Truffle Layers Small Jug

0.35 ltr/12.25

0 in stock
Denby Truffle Large Jug

0.85 ltr/1.5 pint

0 in stock
Denby Truffle Layers Teapot

1.3 ltr/2.5 pint

0 in stock
Denby Truffle Layers Covered Sugar

400g/14oz

2 in stock
New
£32.00
Denby Truffle Medium Serving Bowl

1.4 ltr/2.5 pint

0 in stock
Denby Truffle Large Serving Bowl

2 ltr/3.5 pint

0 in stock
Denby Truffle Round Casserole Dish

2.2 ltr/3.75 pint

0 in stock
Denby Truffle Round Casserole Dish LID ONLY
0 in stock
Denby Truffle Oval Platter

40cm/16"

1 in stock
Good
£22.00
Denby Truffle Small Oval Dish

0.4 ltr/14 fl oz

0 in stock
Denby Truffle Small Oblong Dish

0.5 ltr/18 fl oz, 22 x 13.5 x 5.5cm

0 in stock
Denby Truffle Large Oblong Dish

1.7 ltr/3 pint, 39.5 x 24 x 6cm

2 in stock
Excellent
£30.00
Denby Truffle Oblong Dish

2.6 ltr/4.5 pint

0 in stock
Denby Truffle Casserole Dish

2.2 ltr/3.75 pint

1 in stock
Very Good
£28.00
Denby Truffle Bicentenary One Cup Teapot (Boxed)

One Cup

0 in stock