Coronavirus Update: Our shop may be temporarily closed but you can still shop with us online. We will endeavour to get parcels dispatched as soon as possible but please bear in mind it may take a little longer than usual for us.
Free postage on UK orders over £50
Denby Halo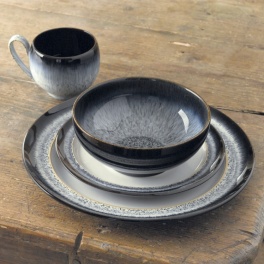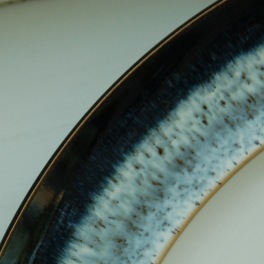 Made in England using locally sourced clay, each piece of Halo is handcrafted using pottery skills passed down through generations. Denby hand apply two glazes which merge together to create an effect, unique only to Denby. Halo is a bold and unique pattern that celebrates individuality, style and the highest standards of English craftsmanship.
Current Range - Lauched 2010
All current range items are new, 1st quality
Description
Our Price (each)
In Stock
Buy
Denby Halo Small Plate

20.5cm/8"

£12.00

9
Denby Halo Medium Plate

24.5cm/9.5"

£14.00

17
Denby Halo Dinner Plate

28cm/11"

£16.00

12
Denby Halo Alt Small Coupe Plate

17cm

£12.00

8
Denby Halo Alt Medium Coupe Plate

21cm

£14.00

8
Denby Halo Speckle Medium Coupe Plate

21cm/8.75"

£12.00

3
Denby Halo Alt Coupe Dinner Plate

26cm

£16.00

9
Denby Halo Speckle Coupe Dinner Plate

26cm/10.25"

£14.00

3
Denby Halo Cereal Bowl

16cm/6.25"

£14.00

12
Denby Halo Speckle Coupe Cereal Bowl

17cm/6.75"

£12.00

6
Denby Halo Wide Rimmed Cereal Bowl

23cm/9"

£14.00

6
Denby Halo Pasta Bowl

22cm

£16.50

12
Denby Halo Rice Bowl

13cm

£12.00

14
Denby Halo Deep Noodle Bowl

14cm

£15.00

9
Denby Halo Extra Small Bowl

10cm

£8.00

2
Denby Halo Alt 4 pc Small Bowl Set

10.5cm

£40.00

2
Denby Halo Speckle Small Bowl

10.5cm

£11.00

3
Denby Halo Ramen/Large Noodle Bowl

17cm

£18.00

2
Denby Halo Speckle Small Shallow Bowl

13cm

£9.00

2
Denby Halo Speckle Medium Shallow Bowl

15.5cm

£11.00

1
Denby Halo Large Mug

0.42 ltr

£15.00

6
Denby Halo Straight Mug

0.35 ltr

£12.00

6
Denby Halo Heritage Mug

0.4 ltr

£14.00

15
Denby Halo Cup

0.25 ltr, Cup Only

£12.00

0

Please allow approx 14-21 days for delivery

Denby Halo Tea/Coffee Cup

0.3 ltr, Cup Only

£12.00

11
Denby Halo Saucer

SAUCER ONLY

£10.00

0

Please allow approx 14-21 days for delivery

Denby Halo Tea/Coffee Saucer

SAUCER Only

£10.00

8
Denby Halo Espresso Cup

0.12 ltr, Cup Only

£12.00

4
Denby Halo Espresso Saucer

Saucer only

£9.00

6
Denby Halo Teapot

1.25 ltr/2.25 pint

£65.00

1
Denby Halo Brew Small Teapot

0.44 ltr, includes integral stainless steel strainer for loose tea

£45.00

2
Denby Halo Teapot LID ONLY

May have a couple of tiny scratches on black

£16.00

(20% OFF)

RRP £20.00

2
Denby Halo Covered Sugar Bowl

300g/11 oz

£29.00

1
Denby Halo 7 piece Asian Set

2 x Halo Ramen Bowls, 2 x Wooden Chopsticks, 3 x Halo Side Bowls (1 x Small, 1 x Medium, 1 x Large)

£70.50

1
Denby Halo Medium Oval Serving Dish

23.5 x 11.5cm

£25.00

1
Denby Halo Large Oval Serving Dish

32.5 x 17cm

£35.00

1
Denby Halo Serving Bowl

1.4 ltr/2.5 pint

£47.50

1
Denby Halo Medium Oval Tray

27cm

£25.00

3
Denby Halo Speckle Rectangular Plate

26 x 14.5cm/10.25 x 5.75"

£25.00

1
Denby Halo Large Rectangular Platter

37.5 x 25.5cm

£50.00

1
Denby Halo Oval Platter

40cm/16"

£50.00

1
Denby Halo Round Platter

31cm

£45.00

1
Denby Halo Square Oven Dish

24cm x 24cm

£30.00

1
Denby Halo Alt Small Rectangular Oven Dish

21cm x 13.5cm

£24.00

3
Denby Halo Alt Large Rectangular Oven Dish

39cm x 25.5cm

£45.00

3
Denby Halo Alt Ramekin

9cm

£10.00

4
Denby Halo Storage Jar

15 x 13cm/6 x 5.25"

£30.00

3
Denby Halo White Wine (pack of 2)

0.33 ltr

£24.00

(20% OFF)

RRP £30.00

3
Denby Halo Red Wine (pack of 2)

0.45 ltr

£24.00

(20% OFF)

RRP £30.00

2
Denby Halo Large Tumblers (pack of 2)

0.55 ltr

£24.00

1
Denby Halo Small Tumblers (pack of 2)

0.35 ltr

£22.00

0

Please allow approx 14-21 days for delivery

Denby Cast Iron Halo 20cm Round Casserole

2.4 litre capacity

£100.00

0

Please allow approx 14-21 days for delivery

Denby Cast Iron Halo 24cm Round Casserole

4 litre capacity

£120.00

0

Please allow approx 14-21 days for delivery

Denby Cast Iron Halo 26cm Round Casserole

5.2 litre capacity

£140.00

0

Please allow approx 14-21 days for delivery

Denby Cast Iron Halo 30cm Shallow Round Casserole

3.8 litre capacity

£135.00

0

Please allow approx 14-21 days for delivery

Denby Cast Iron Halo 28cm Oval Casserole

4.2 litre capacity

£125.00

0

Please allow approx 14-21 days for delivery

Denby Cast Iron Halo 25cm Griddle Pan

£75.00

0

Please allow approx 14-21 days for delivery
Discontinued Items
Description
In Stock
Condition
Price (each)
Buy
Denby Halo Casserole Dish LID ONLY

LID ONLY

1
Very Good
£15.00
Denby Halo Discontinued Extra Large Wide Rimmed Plate
1
New
£28.00
Denby Halo Discontinued Large Jug
1
New
£45.00
Denby Halo Discontinued Rimmed Cereal Bowl
1
New
£14.00
Denby Halo Discontinued Rimmed Pasta Bowl
12
New
£15.00
Denby Halo Discontinued Rimmed Small Bowl
8
New
£12.00
Denby Halo Discontinued Small Jug
1
New
£30.00
Denby Halo Discontinued Small Mug
7
New
£12.00
Denby Halo Discontinued Small Oval Tray
1
New
£14.50