IMPORTANT NOTICE: Due to staff shortages the shop will be temporarily closed and orders may not be dispatched until week commencing 1st April. I hope all our lovely customers can bear with us in this time that is difficult for all of us. Please contact me on 01480 463212 if I can be of any assistance.
Denby Mist & Falls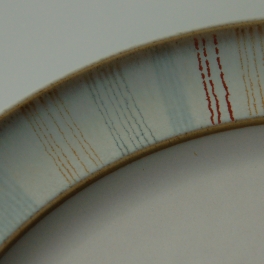 Mist Produced 2008 until February 2013, Mist Falls produced 2008 until February 2012). Dreamy shades of chalk blue to accent with the warmer lines of Mist Falls.
Email us at enquiries@tablewareforlife.co.uk to go on our list for discontinued items currently out of stock. There is no obligation or additional charge for this service.
Description
In Stock
Condition
Price (each)
Buy
Denby Mist Teaplate

18.5cm/7.25"

0
Denby Mist Wide Rimmed Teaplate

20.5cm/8"

0
Denby Mist Falls Wide Rimmed Teaplate

20.5cm/8"

8
Excellent
£12.00
Denby Mist Falls Wide Rimmed Teaplate

20.5cm/8"

2
New
£14.00
Denby Mist Salad/Dessert Plate

23cm/9"

0
Denby Mist Wide Rimmed Salad/Dessert Plate

24.5cm/9.5"

0
Denby Mist Falls Wide Rimmed Salad/Dessert Plate

24.5cm/9.5"

0
Denby Mist Dinner Plate

28cm/11"

0
Denby Mist Wide Rimmed Dinner Plate

28cm/11"

0
Denby Mist Falls Wide Rimmed Dinner Plate

28cm/11"

0
Denby Mist Gourmet Plate

31cm/12"

0
Denby Mist Soup/Cereal Bowl

15.5cm/6"

0
Denby Mist Wide Rimmed Soup/Cereal Bowl

23cm/9"

6
New
£14.50
Denby Mist Falls Wide Rimmed Soup/Cereal Bowl

23cm/9"

2
Excellent
£14.00
Denby Mist Pasta Bowl

24cm/9.5"

0
Denby Mist Falls Rice Bowl

12.5cm/5"

0
Denby Mist Falls Noodle Bowl

14cm/5.5"

2
Very Good
£15.00
Denby Mist Gourmet Bowl

28cm/11"

0
Denby Mist Falls Straight Mug

0.3 ltr/10.5 fl oz

0
Denby Mist Mug

0.35 ltr/13 fl oz

0
Denby Mist Falls Mug

0.35 ltr/13 fl oz

1
Excellent - 2nd Quality
£14.00
Denby Mist Tea Cup

0.25 ltr/9 fl oz, Cup only

1
New
£9.75
Denby Mist Falls Tea Cup

0.25 ltr/9 fl oz, Cup only

0
Denby Mist Tea Saucer

16.5cm

7
New
£8.25
Denby Mist Buffet Saucer

24.5cm, Saucer only

2
Excellent
£12.00
Denby Mist Wide Rimmed Tea Saucer

16.5cm

4
Excellent
£6.00
Denby Mist Wide Rimmed Tea Saucer

16.5cm

2
Excellent - 2nd Quality
£5.00
Denby Mist Wide Rimmed Tea Saucer

16.5cm

2
New
£8.50
Denby Mist Falls Wide Rimmed Tea Saucer

Saucer only

0
Denby Mist Espresso Cup

60ml, Cup only

0
Denby Mist Falls Espresso Saucer

Saucer only

0
Denby Mist Falls Small Jug

0.35 ltr/12.25 fl oz

0
Denby Mist Falls Large Jug

0.85 ltr/1.5 pint

1
New
£44.00
Denby Mist Falls Teapot

1.3 ltr/2.5 pint

0
Denby Mist Falls Covered Sugar

400g/14oz

0
Denby Mist Medium Serving Bowl

1.4 ltr/2.5 pint

0
Denby Mist Oval Platter

40cm/16"

1
New
£52.50
Denby Mist Oblong Dish

2.6 ltr/4.5 pint

0
Denby Mist Casserole Dish LID ONLY
0
Denby Mist Casserole Dish

2.2 ltr/3.75 pint

0