Coronavirus Update: Our shop may be temporarily closed but you can still shop with us online. We will endeavour to get parcels dispatched as soon as possible but please bear in mind it may take a little longer than usual for us.
Free postage on UK orders over £50
Denby Monsoon Veronica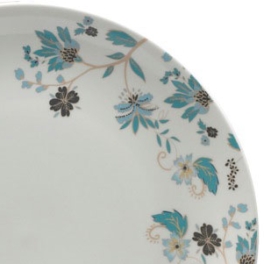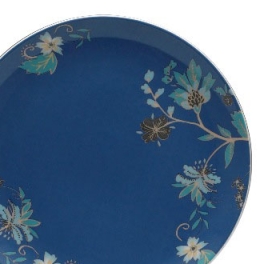 Produced 2010 until September 2016. A contemporary take on traditional floral designs, this beautiful collection fuses together bold and delicate florals in blue, charcoal and teal on fine, soft cream china.
Email us at enquiries@tablewareforlife.co.uk to go on our list for discontinued items currently out of stock. There is no obligation or additional charge for this service.
Description
In Stock
Condition
Price (each)
Buy
Denby Monsoon Veronica Blue Salad Plate

21.5cm/8.5"

0
Denby Monsoon Veronica Cream Salad Plate

21.5cm/8.5"

0
Denby Monsoon Veronica Dinner Plate

28.5cm/11.25"

0
Denby Monsoon Veronica Soup/Cereal Bowl

16cm/6.25"

5
Excellent
£14.00
Denby Monsoon Veronica Pasta Bowl

24.5cm/9.5"

0
Denby Monsoon Veronica Large Mug

0.3 ltr/10.5 fl oz

0
Denby Monsoon Veronica Can Mug

0.25 ltr/9 fl oz

0
Denby Monsoon Veronica Tea Cup

0.25 ltr, Cup Only

0
Denby Monsoon Veronica Tea Saucer

17cm, Saucer Only

6
Excellent
£5.00
Denby Monsoon Veronica Espresso Cup and Saucer x 2 in Gift Box

50ml/1.75 fl oz

0
Denby Monsoon Veronica Small Jug

0.3 ltr/10.5 fl oz

1
New
£18.00
Denby Monsoon Veronica Sauce Jug and Saucer

0.3 ltr/10 fl oz

0
Denby Monsoon Veronica Teapot

1.25 ltr/2.25 pint

0
Denby Monsoon Veronica Covered Sugar

300g/11oz

0
Denby Monsoon Veronica Salt and Pepper in Gift Box
0
Denby Monsoon Veronica Butter Dish
1
New
£25.00
Denby Monsoon Veronica Dipping Bowl x 3 in Gift Box

11cm/4.5"

0
Denby Monsoon Veronica Cake Stand

28.5cm

0
Denby Monsoon Veronica Serving Bowl

2 ltr.10.5 fl oz

0
Denby Monsoon Veronica Round Platter

35.5cm/14"

3
New
£30.00