Coronavirus Update: Our shop may be temporarily closed but you can still shop with us online. We will endeavour to get parcels dispatched as soon as possible but please bear in mind it may take a little longer than usual for us.
Free postage on UK orders over £50
Denby Monsoon Cosmic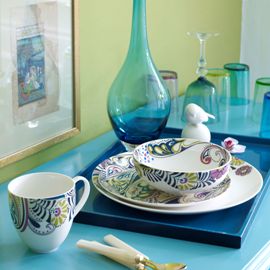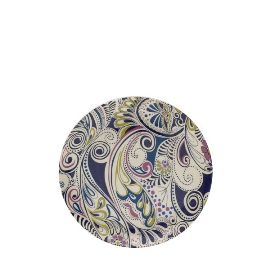 A stunning contemporary interpretation of a paisley print in deep blue, teal, mauve and lime with soft metallic highlights on fine soft cream china. Monsoon's Dinnerware Collection blends together the exotic allure of eastern colour and prints with a western bohemian style and influence.
Current Range - Launched 2011
All current range items are new, 1st quality
Description
Our Price (each)
In Stock
Buy
Denby Monsoon Cosmic Salad Plate

22cm/8.75"

£5.50

Clearance, in stock items only

RRP £11.00

4
Denby Monsoon Cosmic Dinner Plate

28.5cm/11.25"

£6.75

Clearance, in stock items only

RRP £13.50

3
Denby Monsoon Cosmic Soup/Cereal Bowl

16cm/6.25"

£5.50

Clearance, in stock items only

RRP £11.00

3
Denby Monsoon Cosmic Tea Saucer

17cm/6.75"

£4.50

Clearance, in stock items only

RRP £9.00

1
Denby Monsoon Cosmic Espresso Cup and Saucer x 2 in Gift Box

50ml/1.75 fl oz

£14.00

Clearance, in stock items only

RRP £28.00

1
Denby Monsoon Cosmic Sauce Jug and Saucer

0.3 ltr/10 fl oz

£17.50

Clearance, in stock items only

RRP £35.00

1