FREE delivery for mainland GB orders over £50 (excludes highlands and islands) Other areas please see postage page.
Denby Blue Jetty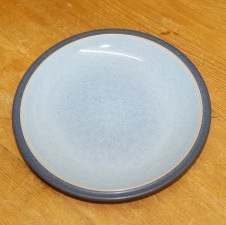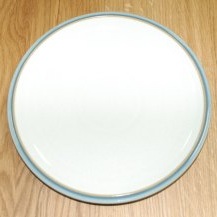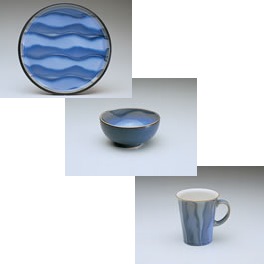 Produced 2002 until February 2009. Made in three colourways. Blue Jetty White, pale blue surround and white centre, Blue Jetty blue, dark blue surround and mid blue centre and Blue Jetty Water a dark blue surround with water effect centre.
Email us at enquiries@tablewareforlife.co.uk to go on our list for discontinued items currently out of stock. There is no obligation or additional charge for this service.
Description
In Stock
Condition
Price (each)
Buy
Denby Blue Jetty Blue Teaplate

18.5cm

0 in stock
Denby Blue Jetty White Teaplate

18.5cm

0 in stock
Denby Blue Jetty Blue Salad/Dessert Plate

22.5cm

0 in stock
Denby Blue Jetty Water Salad/Dessert Plate

22.5cm

0 in stock
Denby Blue Jetty White Salad/Dessert Plate

22.5cm

6 in stock
Good (Heavy wear)
£9.00
Denby Blue Jetty Blue Dinner Plate

27cm

0 in stock
Denby Blue Jetty White Dinner Plate

27cm

0 in stock
Denby Blue Jetty Blue Soup/Cereal Bowl

18cm

0 in stock
Denby Blue Jetty White Soup/Cereal Bowl

18cm, white inside

0 in stock
Denby Blue Jetty Blue Rimmed Bowl

21cm

0 in stock
Denby Blue Jetty White Rimmed Bowl

21cm

0 in stock
Denby Blue Jetty Blue Pasta Bowl

21.5cm/8.5", blue inside

0 in stock
Denby Blue Jetty White Pasta Bowl

21.5cm/8.5", white inside

0 in stock
Denby Blue Jetty Rice Bowl

12.5cm/5"

0 in stock
Denby Blue Jetty Water Rice Bowl

12.5cm/5"

0 in stock
Denby Blue Jetty Water Large Mod Mug

0.35 ltr

0 in stock
Denby Blue Jetty Coffee Beaker

0.3 ltr/10.5 fl oz

3 in stock
Very Good
£12.00
Denby Blue Jetty Footed Mug

0.25 ltr/9 fl oz

9 in stock
Excellent
£14.00
Denby Blue Jetty Coffee Cup

80ml/3 fl oz

0 in stock
Denby Blue Jetty Coffee Saucer
6 in stock
Excellent
£4.00
Denby Blue Jetty Breakfast Cup

0.35 ltr/12.5 fl oz, Cup Only

0 in stock
Denby Blue Jetty Breakfast Saucer

Saucer only, 18.5cm, CLEARANCE

21 in stock
New
£2.00
Denby Blue Jetty Straight Saucer

14cm, 6.5cm approx cup recess

5 in stock
New
£5.00
Denby Blue Jetty Blue Tea Cup

0.2 ltr/7 fl oz, Cup only

1 in stock
Very Good - 2nd Quality
£5.00
Denby Blue Jetty White Tea Cup

0.2 ltr/7 fl oz, Cup only

1 in stock
New
£8.00
Denby Blue Jetty Blue Tea Saucer

Saucer only

4 in stock
Excellent
£5.00
Denby Blue Jetty Blue Tea Saucer

Saucer only

16 in stock
New
£7.00
Denby Blue Jetty White Tea Saucer

Saucer only

4 in stock
Excellent
£5.00
Denby Blue Jetty Salt Pot
0 in stock
Denby Blue Jetty Pepper Pot

could also be used for Salt

1 in stock
Excellent
£5.00
Denby Blue Jetty Small Jug

0.35 ltr/12.5 fl oz

0 in stock
Denby Blue Jetty Large Jug

1.35 ltr/2.5 pint

0 in stock
Denby Blue Jetty Sauce Boat

0.55 ltr/1 pint

0 in stock
Denby Blue Jetty Small Teapot

0.6 ltr/1 pint

0 in stock
Denby Blue Jetty Large Teapot

1.15 ltr/2 pint

0 in stock
Denby Blue Jetty Teapot - Classic 1922 shape

1.25 litre

0 in stock
Denby Blue Jetty Teapot LID ONLY - classic 1922 shape
0 in stock
Denby Blue Jetty Teapot LID ONLY

Only fits Large 1.15 litre Teapot

0 in stock
Denby Blue Jetty Teapot Warmer
0 in stock
Denby Blue Jetty Teapot Warmer for 1922 shape
0 in stock
Denby Blue Jetty Covered Sugar

280g/10 oz

3 in stock
Excellent
£20.00
Denby Blue Jetty Covered Sugar

280g/10 oz

1 in stock
Excellent - 2nd Quality
£16.00
Denby Blue Jetty Butter Dish
0 in stock
Denby Blue Jetty Medium Pasta/Salad Bowl

1.5 ltr/2.75 pint

1 in stock
Very Good
£22.00
Denby Blue Jetty Large Pasta/Salad Bowl

2.9 ltr/5 pint

0 in stock
Denby Blue Jetty Round Platter

33.5cm/13"

0 in stock
Denby Blue Jetty Water Round Platter

33.5cm/13"

0 in stock
Denby Blue Jetty Square Dish

1.5 ltr/2.75 pint

0 in stock
Denby Blue Jetty Small Oval Dish

0.4 ltr/14 fl oz

0 in stock
Denby Blue Jetty Oblong Dish

2.6 ltr/4.5 pint

1 in stock
Excellent
£35.00
Denby Blue Jetty Casserole Dish LID ONLY
0 in stock
Denby Blue Jetty Casserole Dish

2.2 ltr/3.75 pint

0 in stock
Denby Blue Jetty Ramekin

125ml/4.5 fl oz

0 in stock
Denby Blue Jetty Small Goblet

3.75 inches wide, 5 inches tall

0 in stock
Denby Blue Jetty Large Goblet

15cm/6 inches

0 in stock