Coronavirus Update: Our shop may be temporarily closed but you can still shop with us online. We will endeavour to get parcels dispatched as soon as possible but please bear in mind it may take a little longer than usual for us.
Free postage on UK orders over £50
Walton Secret Garden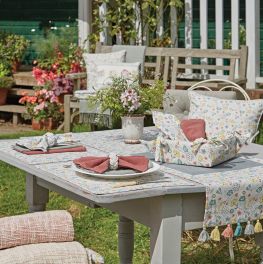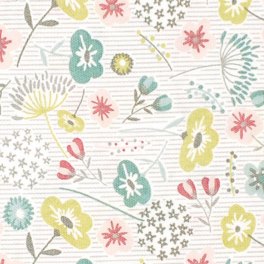 Soft summer colours with a touch of dove grey. Matches beautifully with Mini Gingham Ocean, Metro Opal and Primavera Porcelain.
Description
Our Price (each)
In Stock
Buy
Walton Secret Garden Tablecloth - Large

130 x 230cm

£37.00

2
Walton Secret Garden Tablecloth - Medium

130 x 180cm

£32.50

1
Walton Secret Garden Woven Cream Placemat - PVC

30 x 40cm

£2.80

12
Walton Secret Garden Woven Grey Placemat - PVC

30 x 40cm

£2.80

1
Walton Secret Garden Woven Ocean Placemat - PVC

30 x 40cm

£2.80

5
Walton Secret Garden Placemats - Set of 2

33 x 45cm

£9.25

7
Walton Secret Garden Napkins - Set of 4

46 x 46cm

£16.50

8
Walton Secret Garden Grey Soft Washed Napkins - Set of 4

46 x 46cm

£14.00

2
Walton Secret Garden Ocean Soft Washed Napkins - Set of 4

46 x 46cm

£14.00

4
Walton Secret Garden Tuscan Rose Soft Washed Napkins - Set of 4

46 x 46cm

£14.00

4
Walton Secret Garden Tea Towel - Cotton

50 x 70cm

£5.40

9
Walton Secret Garden Aqua Space Dyed Throw

100% Acrylic, 130 x 170cm

£35.00

1
Walton Primavera Porcelain Tablecloth - Large

130 x 280cm

£50.00

1
Walton Primavera Porcelain Tablecloth - Medium

130 x 230cm

£45.00

1
Walton Primavera Porcelain Tablecloth - Round

172cm dia

£45.00

1
Walton Primavera Porcelain Tablecloth - Small

130 x 180cm

£35.00

2
Walton Primavera Porcelain Runner

40 x 140cm

£13.50

1
Walton Primavera Porcelain Napkins - Set of 4

46 x 46cm

£16.50

6
Walton Mini Gingham Ocean Placemats - Set of 4

33 x 45cm

£9.00

CLEARANCE

RRP £18.00

1
Walton Metro Opal Placemats - Set of 2

33 x 45cm, 100% Cotton

£9.00

2
Walton Metro Opal Napkins - Set of 4

43 x 43cm

£11.25

4
Walton Rope Opal Napkin Rings - Set of 4

£4.50

CLEARANCE

RRP £9.00

4