Coronavirus Update: Our shop may be temporarily closed but you can still shop with us online. We will endeavour to get parcels dispatched as soon as possible but please bear in mind it may take a little longer than usual for us.
Free postage on UK orders over £50
Sophie Allport Starry Night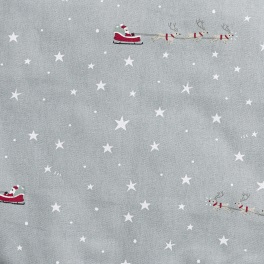 PLEASE NOTE: This range is no longer produced by Sophie Allport so we are able to provide the stock as shown.
Fabulous Christmas design by Sophie Allport. All tableware items are made from fine bone china.
Description
Our Price (each)
In Stock
Buy
Sophie Allport Starry Night Mug

275ml

£11.00

3
Sophie Allport Starry Night Jug - Small

300ml

£16.00

3
Sophie Allport Starry Night Jug - Medium

500ml

£20.00

5
Sophie Allport Starry Night Tea Tidy

10cm

£8.00

5
Sophie Allport Starry Night Spoon Rest

22 x 9.5cm

£11.00

1
Sophie Allport Starry Night Antiqued Silver Onion Glass Bauble - Set of 3

8cm dia each

£10.00

1
Sophie Allport Starry Night Frosted Star Glass Bauble - Set of 3

8cm dia each

£10.00

2
Sophie Allport Starry Night Antiqued Silver Glass Star Tray

26 x 12 (inner) x 3cm

£16.00

2