Coronavirus Update: Our shop may be temporarily closed but you can still shop with us online. We will endeavour to get parcels dispatched as soon as possible but please bear in mind it may take a little longer than usual for us.
Free postage on UK orders over £50
Sophie Allport Holly & Berry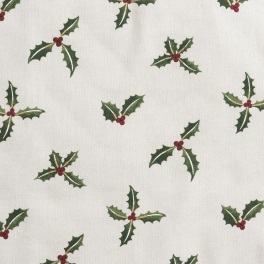 A classic festive design featuring green holly and vibrant red berries on a neutral stone coloured background.
Description
Our Price (each)
In Stock
Buy
Sophie Allport Holly & Berry Bowl

14.5cm, Porcelain

£12.00

1
Sophie Allport Holly & Berry Napkins - Set of 4

41cm x 41cm, 100% Cotton

£15.00

6
Sophie Allport Holly & Berry Apron - Cotton

72cm x 90cm

£19.00

2
Sophie Allport Holly & Berry Double Oven Glove

18 x 84cm

£18.00

2
Sophie Allport Holly & Berry Pot Grab

20 x 20cm

£8.00

2
Sophie Allport Holly & Berry Tea Towel - Cotton

45 x 65cm

£8.00

3